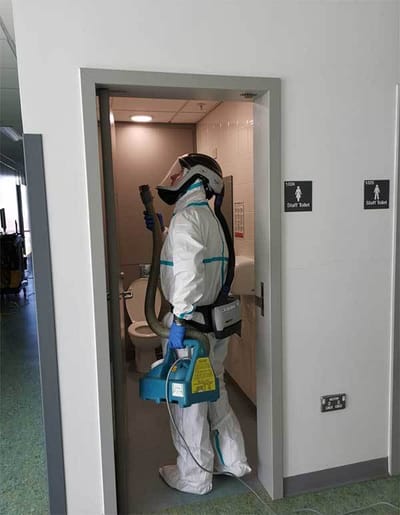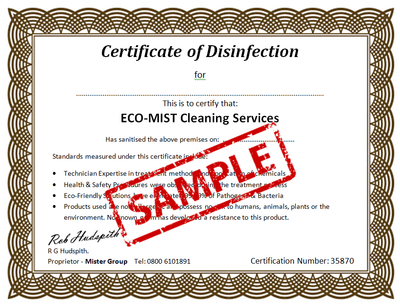 Infection Prevention Control
As the corona virus outbreak continues to grow, the
Mister Group
are doing their part to help local businesses take maximum precaution to sanitise and prevent the virus from spreading.
The Mister Group
of companies have combined their skills to offer a sanitising service using a high grade disinfectant applied to rooms with a ULV Cold Fogging machine which aerosolises the solution into a very fine mist or fog.
Our new service is called
Eco-Mist
and our customers include both the public and private sector. We have established a good relationship with the customers of our existing companies over many years.
With this vast experience combined with our good name throughout the cleaning and restoration sector we expect our new venture to succeed.
Human infection is usually caused by contact with contaminated surfaces. Touching your eyes, mouth or nose after contact with contaminants can lead to infection.
Our COVID-19 disinfection service primarily targets regularly touched surface areas to eliminate harmful viruses. However, the biggest benefit of our fogging system is that the fine mist also settles on difficult to reach places to cover every nook and cranny leaving no wetness or residue.
Our
Certificate of Disinfection
(as shown on this page) will let your staff and customers know that they are in the safest environment possible and show you are taking relevant precautions.
Fogging is an effective way to completely disinfect your home or business and it can be carried out on a reactive or planned regular basis. The process is quick and causes minimal disruption.
Call
FREE
today to book your Anti- Viral Fogging service
0800 61 01 891
or
0786 7979677
Our services also include aircraft fogging, post covid 19, sanitisation of offices, corona virus disinfecting for factories, care home disinfection service, infection control for pubs, hotel disinfection service, retail shop disinfection, public vehicle disinfection, commercial property disinfection, restaurant disinfection and in general - a post coronavirus disinfection service for all.